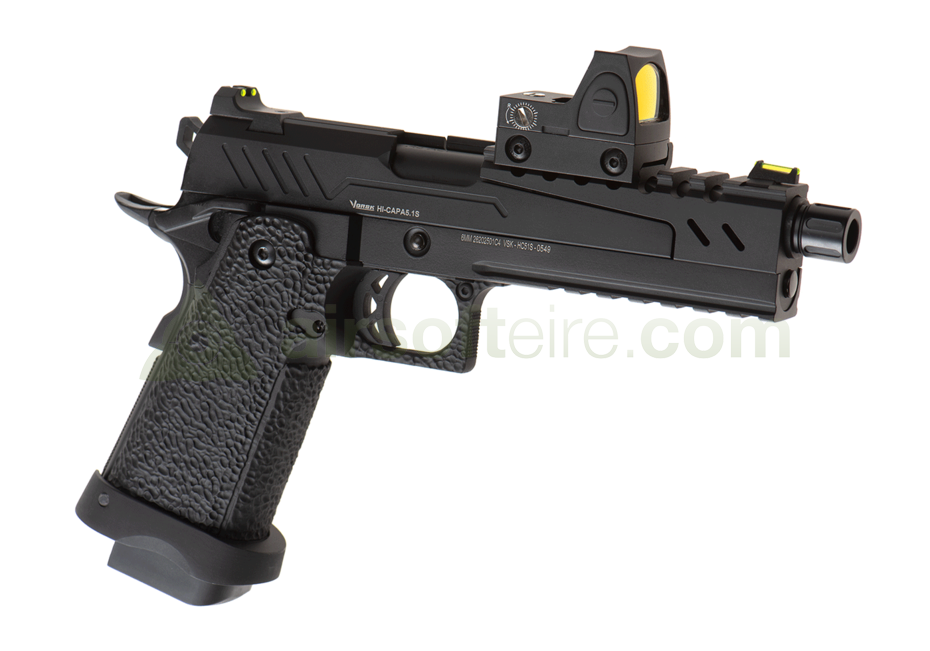 Vorsk Hi-Capa 5.1 Split Slide with Dot Sight - Black
VORSK have built on the success of their Hi-Capa series with the introduction of the new 5.1 Hi-Capa Split-Slide models. 

The already iconic look of the VORSK Hi-Capas, with their rail-cut outs and grooved top rail, leading to a reduced slide weight, excellent grip, snappy trigger response and memorable looks have been further advanced with the introduction of a split slide.
The split slide design improves the performance levels of the Hi-Capa series by reducing the weight of the moving slide, which in-turn increases the trigger response.
In addition to this, the forward slide section has been redesigned to incorporate a top rail, allowing customers to fit Sights/ Optics to the stationary slide for excellent target acquisition. 
A micro Dot sight is included with this pistol.
All of these changes result in an improved targeting & firing experience, all whilst maintaining VORSKs fierce & dramatic styling.
6.03 inner barrel, 113mm in length.
Includes a Vorsk patch, collectible stainless steel serial numbered dog tags, spare parts kit and a battery for the included dot sight.
Fires at:

325fps
Weighs: 900g