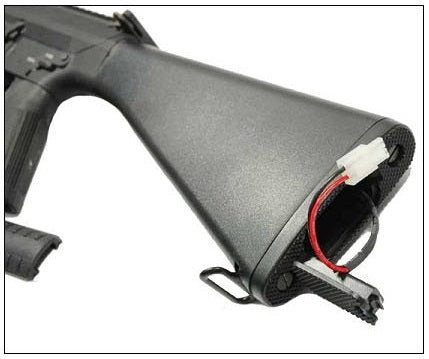 G&G SR-25 Rifle
SKU
EGR-025-SNP-BNB-NCM / 812
A hugely impressive replica of the SR-25 rifle, made by G&G.
The SR-25 real-steel models ship with match grade barrels and are chambered in 7.62mm for use as a highly accurate sniper rifle.
This replica from G&G has a full metal upper and lower receiver with a fantastic looking matt black finish.
Stock made from solid, super-high quality ABS plastic with a textured feel.
Stock houses up to a large-type battery; ships with a large Tamiya connector.
Up front you will find a full metal, free-floating 11.5" RIS system which surrounds the barrel. Attached to the underside of the RIS system you will find a 20mm to QD stud adapter (removable).
The GR25 ships with  a massive 330mm metal silencer with a powder coated finish. Features a gravity-based lock for quick attachment/removal.
Other metal parts include the entire barrel, 20mm top rail, front sight, trigger, charging handle and dummy bolt.
Pull back on the charging handle (which has a much longer travel than a standard M4/M16) and press in on the bolt catch. This holds the bolt open so you can adjust the hop-up.
Adjustable hop-up dial located under the dummy bolt.
Semi-automatic only just like the real steel SR25; this rifle has no fully automatic feature.
Rifle allows easy bipod attachment at sling mount point.
Includes a 50rd mid-cap magazine, but 400 round high capacity magazines are available here and 50 round ones here.
Comes bundled with a set of 20mm rail covers for more comfortable grip of the handguard.
HIGHLY upgradable with all standard M4/M16 gearbox parts and motors.
Also accepts standard AEG barrel sizes.
RRP is €499.99, fantastic value!
Fires at: 300fps

Weighs:

3010g
Length: 1000.0mm

Battery:

 8.4V/9.6V 3000-5000mAh (not included)

Charger: Not included