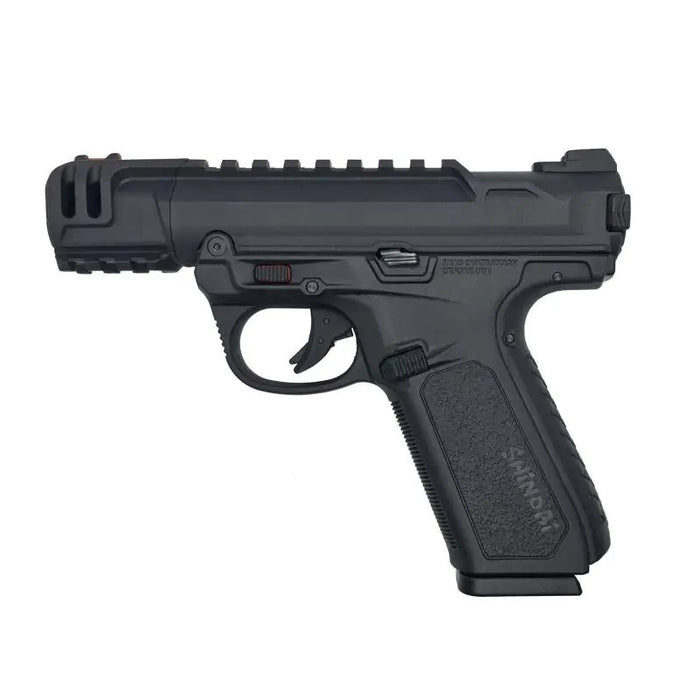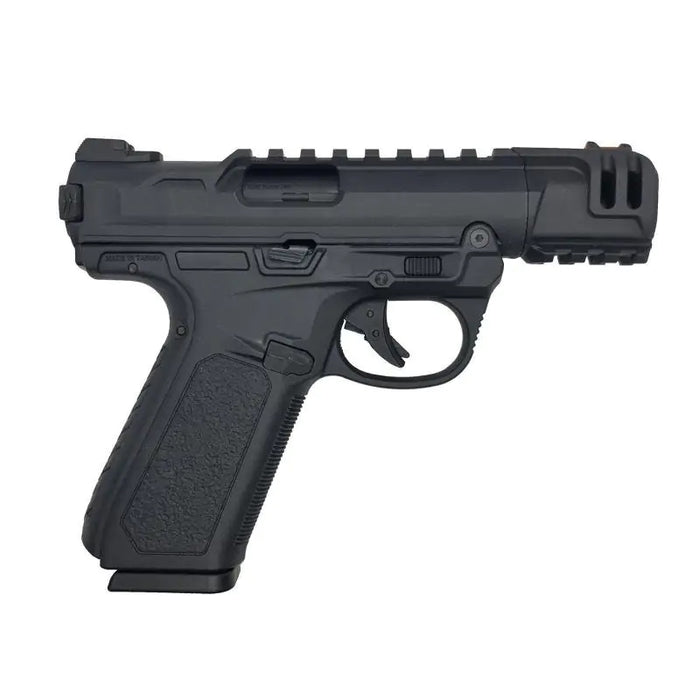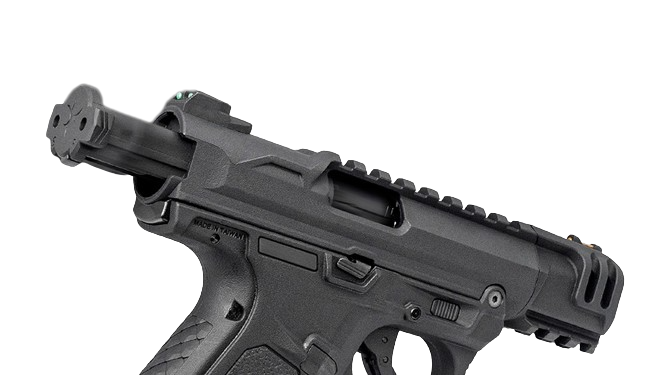 AAP01C GBB Full Auto / Semi Auto - Black
The Action Army AAP-01C is the new compact version of the well-known Action Army AAP-01.
Has a shorter upper compared to the original AAP-01 and has upper and lower rails included. 

Features a new improved, easily accessible fire selector with engraved markings, "S" for single fire and full auto with "F".

Semi / Full Auto.
Green gas powered, includes a 23rd green gas magazine in the box.
Fiber Optic Sights.
"Shinobi" engraving on grips which have an excellent finish.

6.03mm inner barrel.

Aggressive ported compensator on end of barrel assembly.
Offers incredible performance (especially in cold weather), 

an absolutely massive backlog of compatible accessories and upgrades, and is sold at an amazingly competitive price.

Accepts most AAP01 upgrade parts.

The pistol is constructed from a very heavy duty Polymer that feels great in the hands, and brings the Pistol to a total loaded weight of ~0.6kg.
The pistol grip has an ergonomic design and again closely replicates the shape and feel of the G-Series.
A set of Light Enhancing Ironsights are installed on the pistol out of the box, which will capture light and make them easier to see in darker environments.
The frame features a trigger lock safety which can be pushed through to block the trigger and has a red outline so that you can easily see when it is not engaged.
Note: If the hop up unit is in the fully off position on these pistols bbs can roll out of the barrel, this is simply rectified by applying the hop up on.
Note:

 

We do not warrant damage or wear caused by using this pistol with a HPA setup. The gun is designed to be used with green gas, using high pressure air takes the pistol beyond the limits of the power source it was designed for. If you plan on using HPA with the AAP, we recommend upgrading the internal parts. In effect, you lose your warranty by swapping the power source to HPA.
Fires at:

 290fps
Weighs: 676g
Length: 185mm