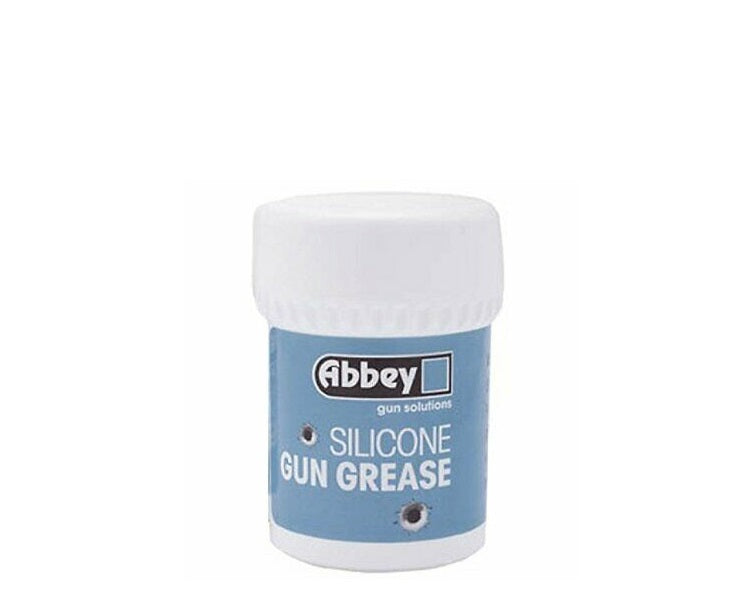 Abbey Silicone Airsoft Gun Grease - 20ml
Abbey Silicone Gun Grease is the ideal lubricant for plastic components within airsoft guns (or plastic on metal). Comes in a single 20ml tub.
Its low surface tension means it spreads to an even film giving very smooth operating cycles. It will flow over everything including itself. This self healing property ensures you do not have 'dry' areas between friction surfaces such as your gear sets or slides.
Abbey Silicone Gun Grease does not swell or soften O rings.
It remains fluid at all times. It will not harden, crack, rot or become brittle with age. It is a truly apply-and-forget grease for gun internals. It is compatible with all plastics.
Abbey Silicone Gun Grease tolerates a very high range of temperatures and will keep working in any conditions you operate in. Its high oxidation resistance makes this the ideal long term lubricant for maintenance free operations.
Silicone greases have lower load carrying properties than mineral greases making them unsuitable for metal to metal high load applications. See Abbey Gun Grease LT2 for metal to metal applications. Due to their lower load characteristics Abbey Silicone Gun Grease is ideal for metal to plastic and plastic to plastic applications.
For use inside AEG gearbox cylinders, on piston heads and rubbers, tappet plates, pistols slides and other pistol components.