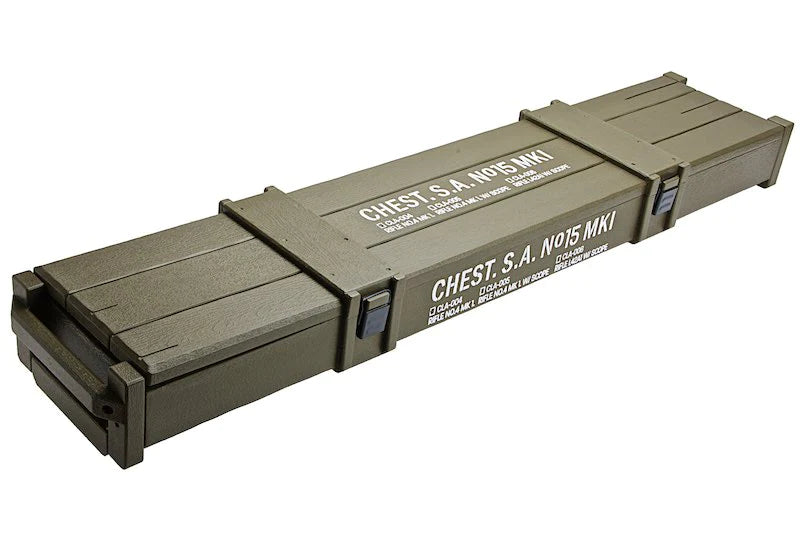 Ares Lee Enfield SMLE British NO.4 MK1
Arguably the highest quality Lee Enfield replica on the market, Ares have done a fabulous job re-creating this iconic rifle.

Exceptionally solid construction, with real wood stock with a beautiful grain unique to each gun.
Very heavy just like the real steel, coming in at 3.7kg.
As you would expect at this price point, the rifle ships in its own imitation wood cargo case. Made from tough ABS, the case offers great protection for the rifle and a suitably fine display piece for collectors.
The rifle comes wrapped in authentic wax paper, which is further wrapped in plastic.
All other components are metal, including the barrel, front sight assembly, front/mid/rear sling attachments, trigger guard assembly, magazine and the entire upper receiver and rear sight assembly.
Spring powered operation, so no gas or batteries required. Simply load up your magazine and lift up and pull back on the bolt handle to prime the piston. Push the bolt forwards and down and pull the trigger to fire.
The MK1 has a unique open bolt style  loading mechanism to replicate the design of the original as closely as possible.
An absolute must for all collectors and skirmishers alike.
Note that Ares do not protect the wood stock from the rear sling loop, so a small indent in the wood in this area is common to all of these models.
Length: 1115mm

Weighs: 3.7kg