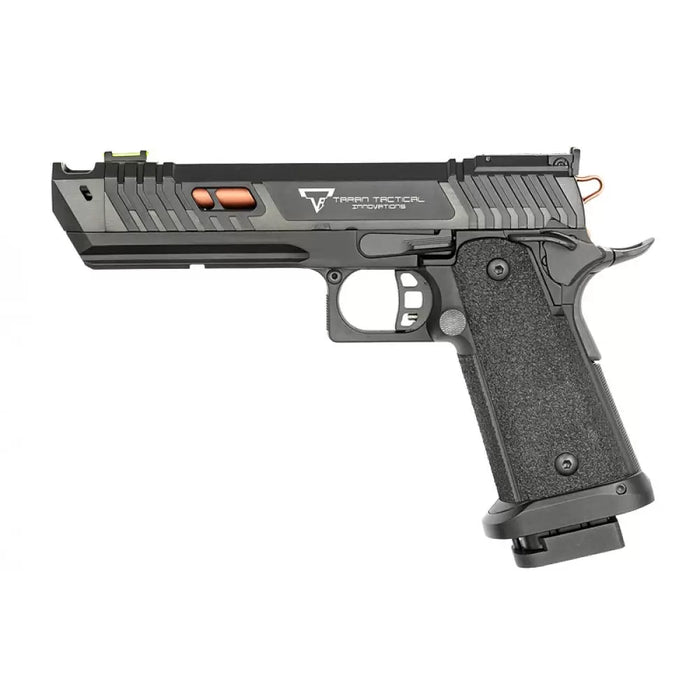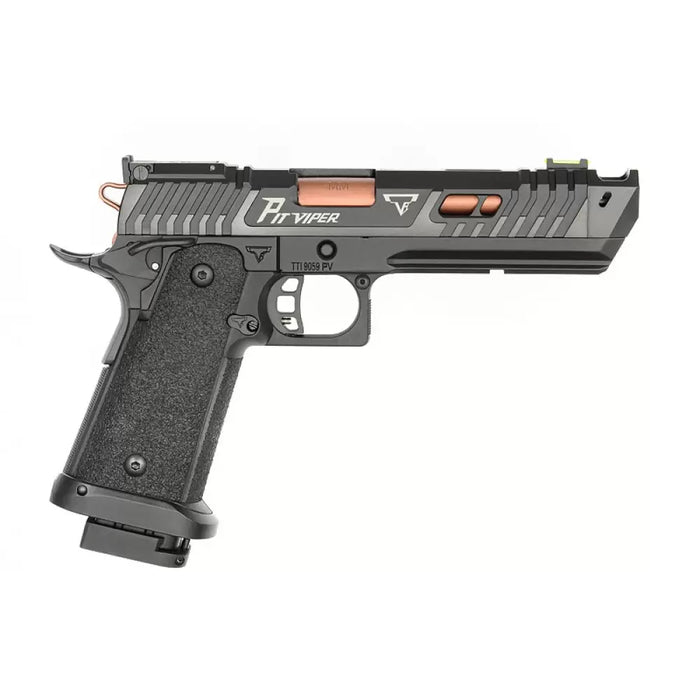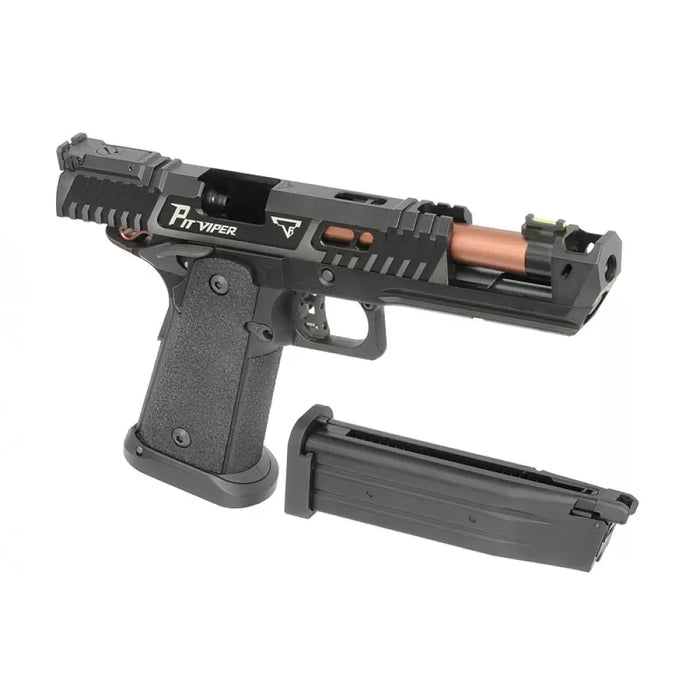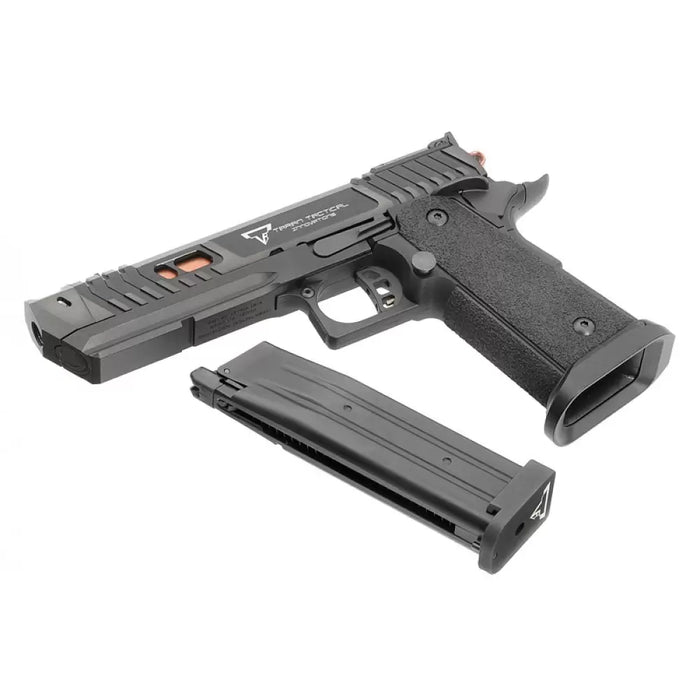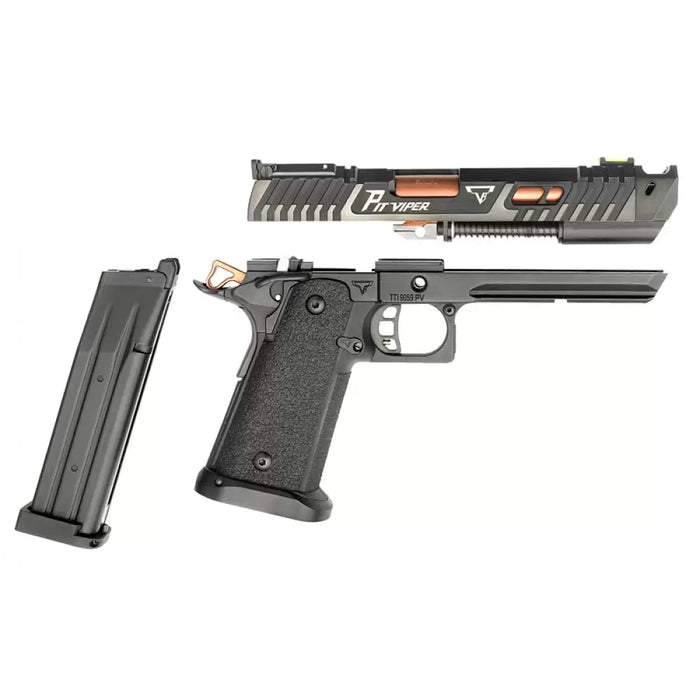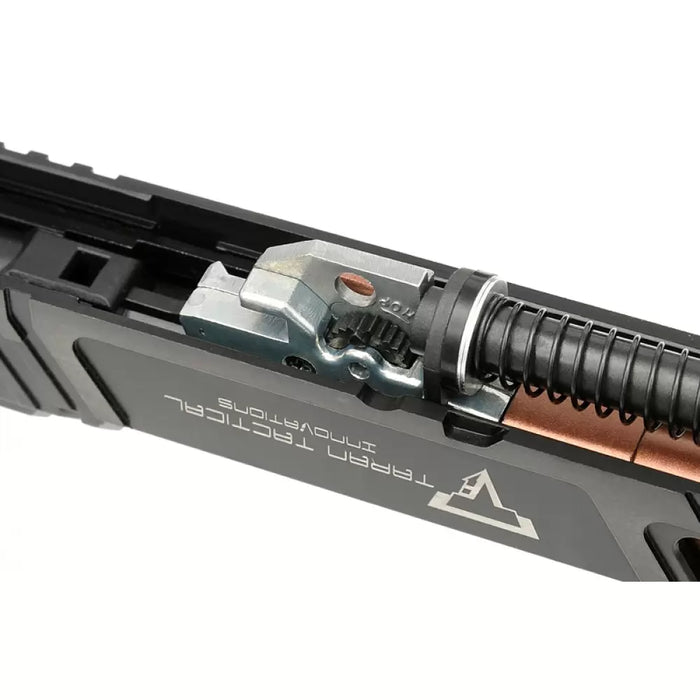 Army Armament Taran Tactical Pit Viper GBB Pistol
A fantastic replica of the Taran Tactical Pit Viper pistol from Army Armament.

1:1 scale of the real steel model, it sports the characteristic side-ported slide and compensator muzzle of its famous movie counterpart.
Featured prominently in the John Wick movie.
Semi-automatic blowback operation. The slide kicks and recoils with every shot. and locks open once the magazine runs empty.
A quality replica with lots of metal parts, including the slide and frame, outer barrel, hammer, trigger, slide release, magazine release, compensator, safety levers and grip safety,.
Sports Taran Tactical insignia stamped on the side of the slide.
Contrasting bronze coloured outer barrel and hammer for a cool, slick look.
The slide sports the same aggressive slide serrations front and back, for easy grip and manipulation of the slide.
The grip sports heavy stippling for incredible grip, even in wet conditions.
Flat competition style skeletal trigger.
Adjustable hop-up system on the underside of the barrel.
Includes a single 30rd magazine.
Working ambidexterous safeties and grip safety.
Lower accessory rail allows the attachment of a variety of aftermarket accessories like flashlights or lasers.
144a gas is recommended for temperatures over 18 degrees C. Green gas for under.
Compatible with Marui Hi-Capa 5.1 magazines.
Compatible with Amomax 5.1 holster (a little tight) or the Amomax universal holster (perfect fit).
Note the seperate image, this is the hand stippled version.
We have tried and tested Marui Hi-Capa 5.1 magazines and they work great.
Fires at:

 310fps (144a)
Weighs: 1.05kg
Length: 260mm