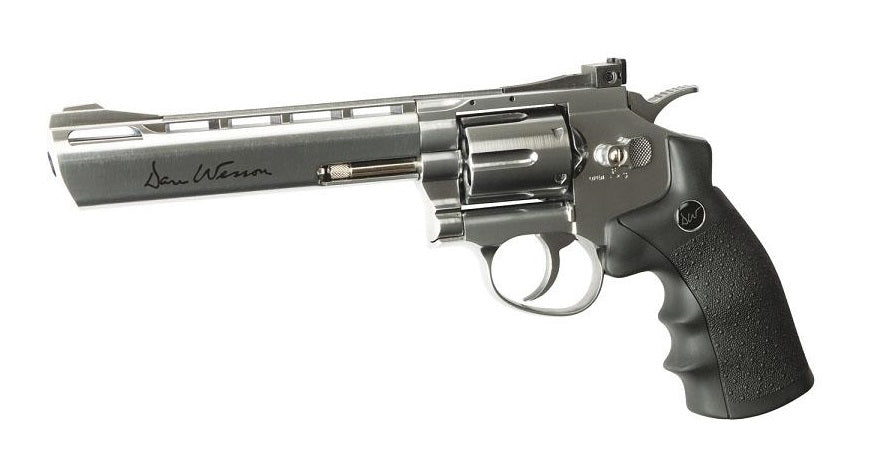 ASG Dan Wesson 6" Revolver - Silver
ASG's Dan Wesson range of CO2 revolvers are amongst the most realistic airsoft replicas you can get. This is the silver, 6" barrel length model.
Full metal construction with contoured ABS grips.
ASG have full licensing authority from Dan Wesson themselves, so each model has genuine stamped markings on both sides of the barrel.
Every part of the pistol is metal including the trigger, hammer, outer barrel and frame, cylinder, cylinder latch, inner barrel and extractor rod.
Coming in at 1.04kg, the pistol has a very impressive weight.
The grip has an ergonomic shape making it a comfortable pistol to shoot. This grip can be hinged off the pistol with no tools, revealing the CO2 cartridge compartment.
Simply undo the cartridge screw, insert a 12g cartridge and tighten the screw to break the seal. The pistol is then ready to shoot.
The revolver ships with six full-sized metal shells which are completely removable. Each shell holds a single BB.
Pulling the trigger cycles the cylinder counter-clockwise, with CO2 forcing the BB down the barrel. 
The Dan Wessons have no hop-up system as the pistols rely on raw velocity to get decent range.
Each trigger pull cycles the hammer and produces a loud satisfying "phat" noise with each shot.
The revolver also includes a separate 20mm rail which can be attached to the top of the pistol, as well as a six shot speed loader for the shells.
A fantastic pistol for the collectors.
A note on power: These "1 joule" versions of the Dan Wessons have factory-modified shells to reduce their power output. As a result, the pistols produce a relatively low 200-240fps giving comparatively poorer range than more powerful semi-automatics. The restrictor in the shells can be modified to increase the power closer to one joule, however power becomes inconsistent and we could not guarantee sub 1 joule power output. Altering shells or using more powerful shells is done entirely at your own risk and is not recommended from a legal standpoint. We view these pistols in their "1 joule" form as more for collectors and plinkers than for proper long range skirmishing.
Fires at:

220fps
Weighs: 994g
Length: 298mm