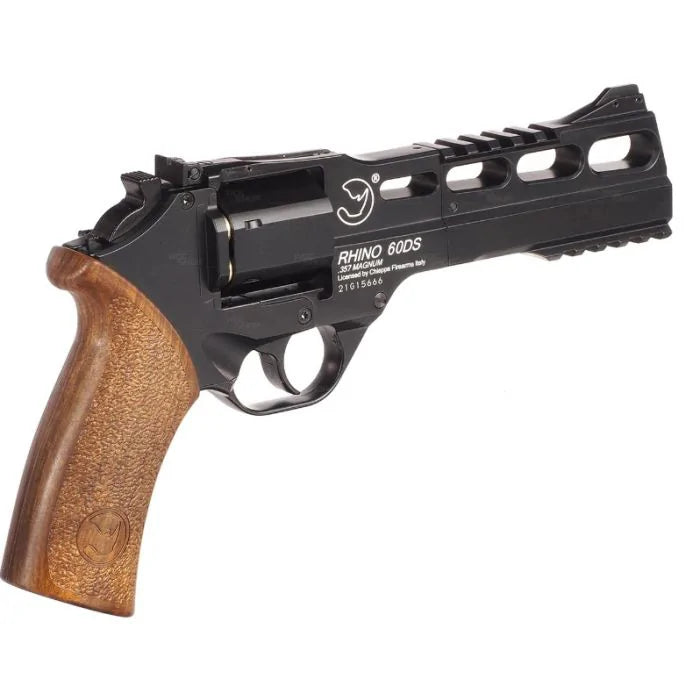 Chiappa Rhino 60DS Co2 Revolver - Black
Officially licensed airsoft revolver by Chiappa Firearms.
Each model has it's own unique serial number.

An exact replica of the Rhino 60DS Revolver with authentic trademarks.

Rugged full metal body matches the weight of the real Chiappa Rhino Revolver.

Unlike other revolvers, the Chiappa Rhino's barrel aligns with the bottom of the cylinder.
Cocking device also has indicator to show if pistol is cocked or not.

Double Action Only.
Built-in accessory Picatinny rail for mounting flashlights or lasers.
Uses standard 12g CO2 cartridges inside the grip.

The revolver ships with six full-sized metal shells which are completely removable, also compatible with Dan Wesson shells. Each shell holds a single BB.
Pistol Grip has a built in hex key used to loosen and tighten CO2 catridge.
Simply undo the cartridge screw, insert a 12g cartridge and tighten the screw to break the seal. The pistol is then ready to shoot.
Coming in at 1.2kg, the pistol has a very impressive weight.
The grip has an ergonomic shape making it a comfortable pistol to shoot.
A fantastic pistol for the collectors.

Note: The Rhinos are a large, heavy pistol and the lightweight plastic tray inside the box that holds the pistol can crack in transit; unfortunately this is the norm. However we pack the pistols securely and it will arrive in perfect condition.
Fires at:

 315fps
Weighs: 1.205g
Length: 240mm