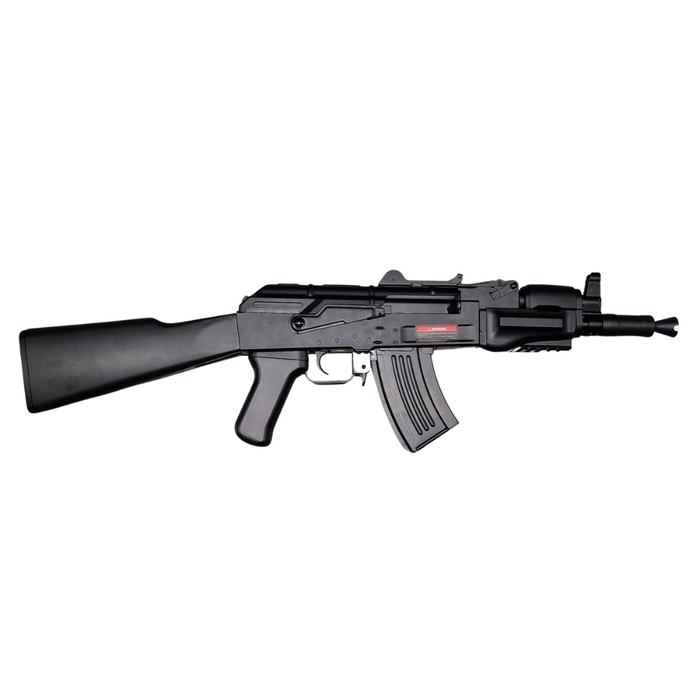 CYMA is renowned for producing some of the best bang for buck electric rifles on the market. They offer great quality at an affordable price.


This model is based on a shorter Spetnaz Special Forces rifle.

Polymer receiver and features a synthetic stock, pistol grip and handguard. 

Has a short 20mm picitanny rail on the underside of the handguard for attaching a flashlight, laser or vertical grip.

The replica is equipped with CYMAs quality V3 metal gearbox and motor, which sports standardized parts for repairs and upgrades.

The stock doubles as the battery compartment, which accepts a small type 9.6V battery (not included).


Includes a 260rd high capacity, plastic magazine.

Selectable semi and fully automatic fire via the selector lever.

Adjustable hop-up unit is located behind the bolt.

Inner Barrel length of 229mm.

Working charging handle, pull back to expose the adjustable hop-up unit.

Includes a basic sling and cleaning rod.
Fires at:

 290fps
Weighs: 1.8kg
Length: 710mm

Battery:

 8.4V/9.6V small-type 1600mah (not included)
Charger: Not Included
Note: The stated muzzle output has been measured by ourselves with a 0.2g BB and will be frequently remeasured. Variations of +/- 10% are possible, but always conforming to the Irish 1 joule limit.