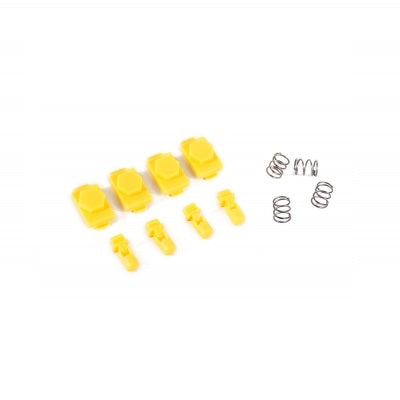 Dytac Hexmag Colour ID Latchplates & Followers - Yellow
Includes 4 Latchplates, 4 Followers and 4 Springs per pack.
For Dytac Hexmag Airsoft AEG Magazines.

Hexmag HexID Color Identification System Makes Ammunition Recognition Simple.
Marking your magazine should not be a home improvement project. Over the years magazines have been marked using many different methods such as tape and paint. colored electrical tape makes magazine markings standout when viewed from a distance. 
The HexID Color Identification System is based on the principle that color is the simplest way to mark your magazines. So we incorporated color into our ammo identifier design."

"Not only does the HexID color identification system eliminate the messy task of adding paint or tape, it can be changed in less than a minute. Finding a particular magazine in a mag pouch, gear bag or a storage cabinet has never been easier. The colors may be bright but you can be assured you're not hanging Christmas lights on your rifle. The HexID blends in perfectly with your lifestyle in different environments."

DYTAC has made it easier for you to organize your magazines with this color coding system. You can color coordinate your magazines toward .20g, .25g, black, tracer or other BBs for your kit. You do not have to worry about bright colors from tape or other identifying tools on your gear. Overall, this hex ID system is an intuitive system designed to make your game play easier.
Hazard Yellow in colour.