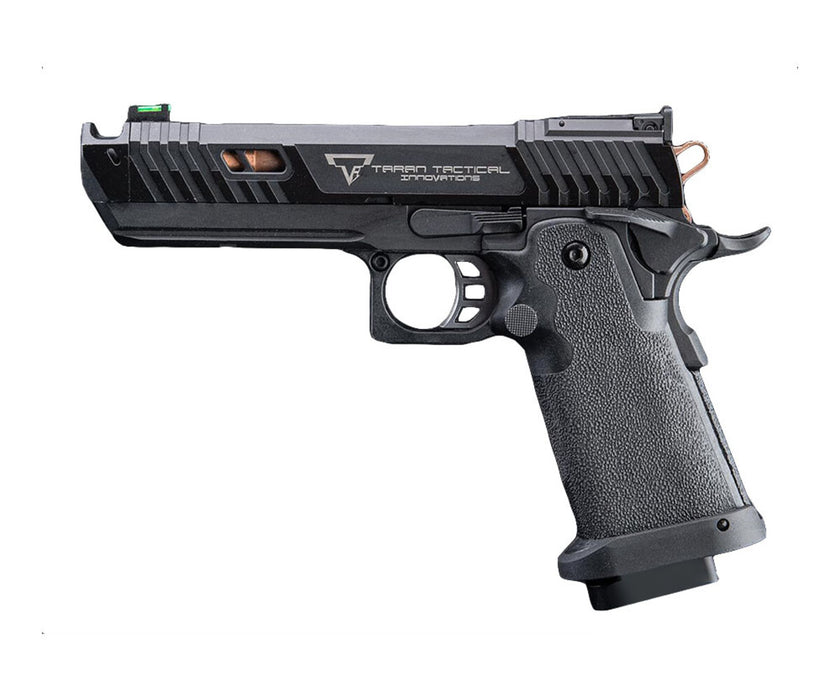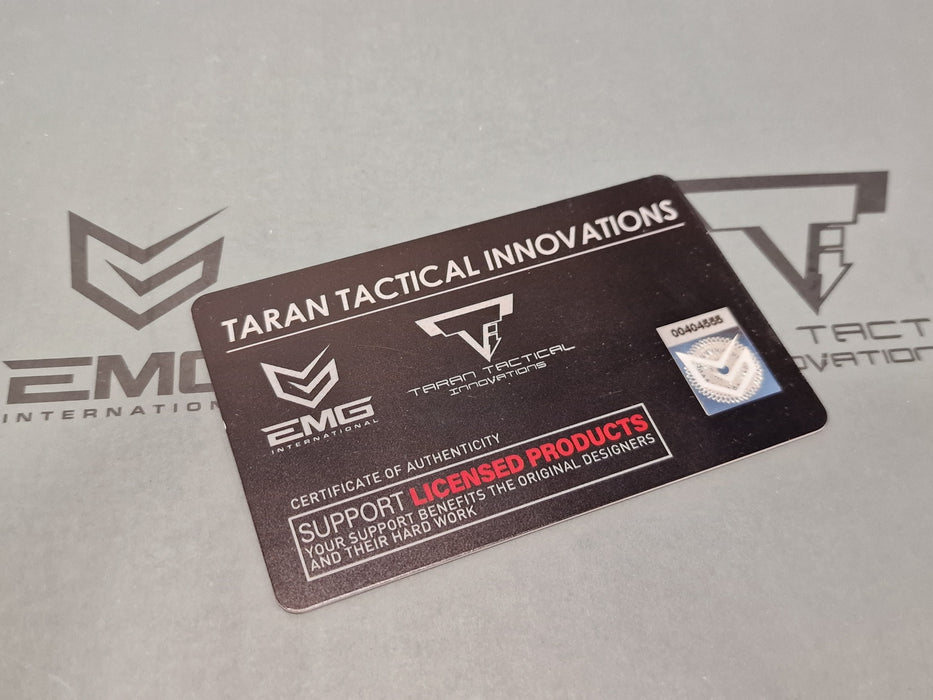 EMG International Taran Tactical Pit Viper GBB Pistol - Semi/Full Auto
This is the EMG International, fully licensed verious of the JW4 2011 Pit Viper select fire pistol.

As per the images, this ships in the beautifully presented, weighty teal coloured box with the joint partnership between EMG and Taran Tactical printed on the front.
A heavy pistol, coming in at 1.045kg with the magazine inserted.
Sports Taran Tactical insignia stamped on the side of the slide, as well as on the base of the flared magazine well and magazine base.
1:1 scale of the real steel model, it sports the characteristic side-ported slide and compensator muzzle of its famous movie counterpart.
Featured prominently in the John Wick 4 movie.
Selectable semi and fully-automatic blowback operation. The slide kicks and recoils with every shot and locks open once the magazine runs empty. 
A quality replica with lots of metal parts, including the slide and frame, outer barrel, hammer, trigger, slide release, magazine release, compensator, safety levers and grip safety,.
Contrasting bronze coloured outer barrel and hammer for a cool, slick look.
The slide sports the same aggressive slide serrations front and back, for easy grip and manipulation of the slide.
The grip sport lighter stippling than the Army Armanent models, which is a little less aggressive to the touch.
The trigger is also a silver skeletal design compared to the black AA trigger.

Adjustable hop-up system on the underside of the barrel.
Includes a single 30rd magazine.
As this is the select fire model, the right side safety lever is actually the fire selector. The left side lever functions as the safety as normal.
Lower accessory rail allows the attachment of a variety of aftermarket accessories like flashlights or lasers.
144a gas is recommended for temperatures over 18 degrees C. Green gas for under.
Compatible with Amomax 5.1 holster (a little tight) or the Amomax universal holster (perfect fit).
Fires at:

 320fps (144a)
Weighs: 1.045kg
Length: 260mm