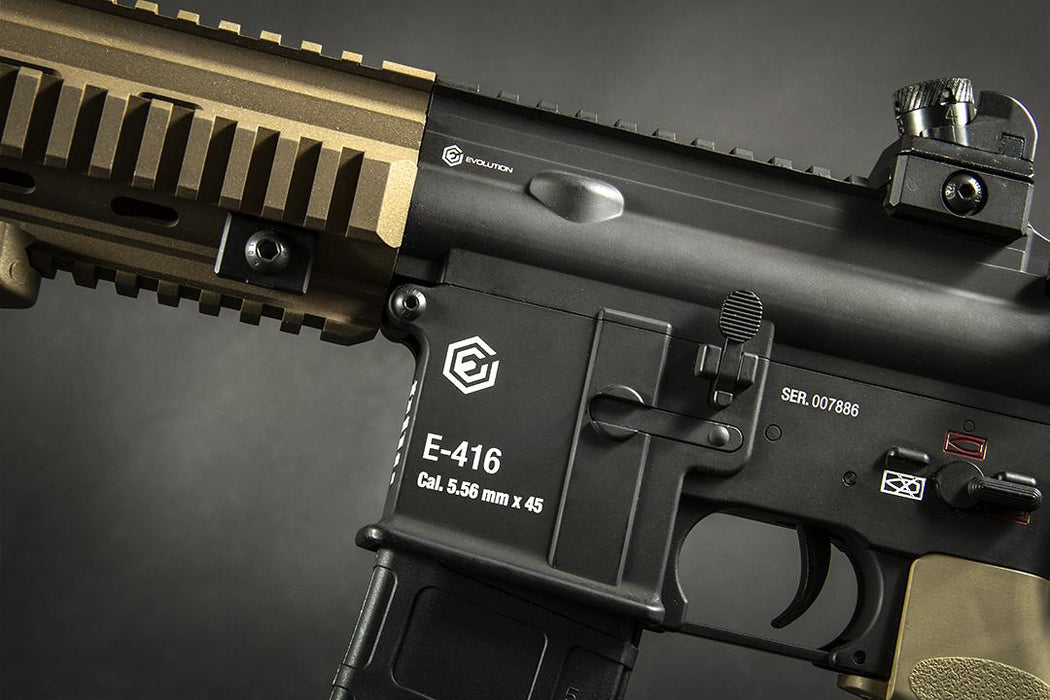 Evolution E-416 DEVGRU ETS Rifle - Bronze/Black
The Evolution E-416 range is based on the popular HK416 platform, with lots of features not typically seen at this price point.

You get a full metal upper and lower receiver with white stamped E-416 markings on the magazine well. Other metal parts include the outer barrel, front and rear sights, fire selector, magazine release, sling hook, charging handle and buffer tube.
This is the DEVGRU model and ships with a 10" outer barrel and 9" 20mm railed CNC machined anodized handguard . The inner barrel is 6.01mm in diameter.
You also get a removable 20mm ABS foregrip that can be positioned anywhere along the handguard,
The handguard allows attachment of 20mm accessories on all four sides.
The pistol grip and stock tan in colour with a contrasting black buttplate.
The stock is fully adjustable with 6 positions. It also houses the battery (not included) and is designed for split cell batteries like a 9.6V cranestock or 7.4V 1300mAh Sticks shape.
Selectable safe, semi and fully automatic fire.
As this is an ETS lll enabled AEG, it sports Evolution's proprietary electronic trigger system that features:
Configurable fire selector, adjustable trigger response, burst mode, precocking, ramping, active brake, full cycle control, ROF control, smart trigger auto boost, automatic Li-Po, Li-Fe and voltage detection, low battery warning and a battery fail safe mode.
The E-416 DEVGRU ships with a 130rd polymer mid-capacity magazine. Accepts pretty much all standard M4 AEG magazines.
Working bolt catch system. Pull back on the charging handle and the dust cover flips open, locking back the dummy bolt. Hit the bolt catch and the bolt snaps shut.
Rotary-style hop-up unit for accurate adjustment.
The front and rear sights are full metal and completely removable.
Quick change spring system (just the buffer tube needs to be removed to access).
Wired to Deans, Adapter included.  
Battery:

 

9.6V 1600mAh cranestock/7.4V 1300mAh Li-Po Sticks (not included)