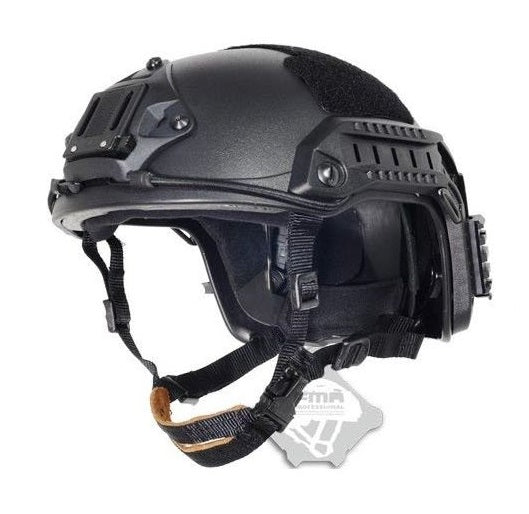 FMA Ops-Core FAST Maritime Helmet (Black)
This helmet from FMA is a fantastic replica of the Ops-Core FAST Maritime Military Helmet.
The Maritime variant of standard Ops-Core-style FAST helmets have an ear cut geometry that is 16mm higher than the FAST High Cut Shell shape, allowing for clearance or larger headset style communications devices.
Features an under-the-chin sports-style chinstrap with a cover sock for added comfort.
Lightweight, multi-impact, ventilated liner with repositionable EPP impact pads and LDV closed-cell comfort foam.
1/2" EPP pads come with the helmet
Occ-Dial adjustable fitband with replaceable leather front, nape, and side pads for comfort and stability
FAST-ARCs - 4 Position Accessory Rail Connectors: for quick attachment of headborne accessories, including lights, cameras, goggles, COMMs, face protection, etc.
Molded-in front mount with a Universal Adapter to attach lights and cameras
Side Velcro loop for patches and lights.
Includes a Wing-Loc Adapter for the side rails.
These are Large in size, but suit most medium-large adult heads by adding or removing the internal velcro pads.
Includes a 20mm accessory rail and Velcro pad kit.
Black in colour.