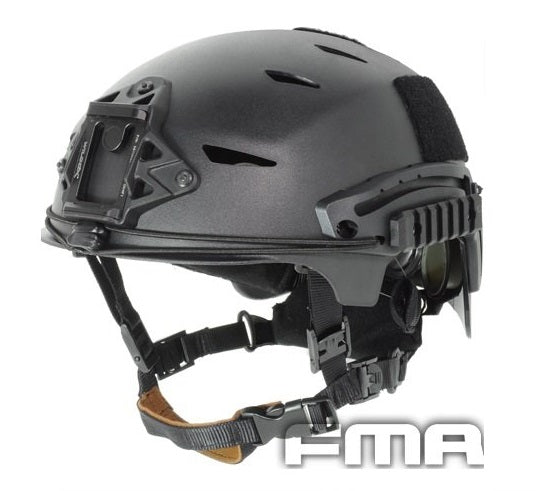 FMA Wendy Exfil-Style Bump Helmet - Black
This helmet from FMA is a fantastic replica of the Team Wendy Exfil Carbon Bump helmet.
The shell is made from a tough ABS polymer.
Sports a Wilcox W-style shroud for NVG attachment, as well as T slots on either side for accessory mounting.
Features an under-the-chin sports-style chinstrap with soft velvet finish.
Ventilation holes are located uniformly across the contoured shell.
CAM-FIT-style retention system with cam-lock sliders for one-handed adjustments and secure fit.
The Rail 2.0 Accessory Mounting System is compatible with all EXIL® accessories including:
 Tool-free quick release adapter, oxygen mask strap kit, goggle posts, min-tinny and Peltor™ adapter kit.
 T-slots provide limitless custom mounting options
Micro-adjustable dial on the rear of the helmet strapping allows for quick and easy tightening of the integrated lace.
Twenty impact-absorbing pads are located inside the helmet, which provide a soft comfortable fit for the wearer.
These are Large in size, but suit most medium-large adult heads.
Two 20mm picatinny-style rails are located on both sides of the helmet.
Rear bungee for securing goggle straps.
This helmet comes in a black finish.