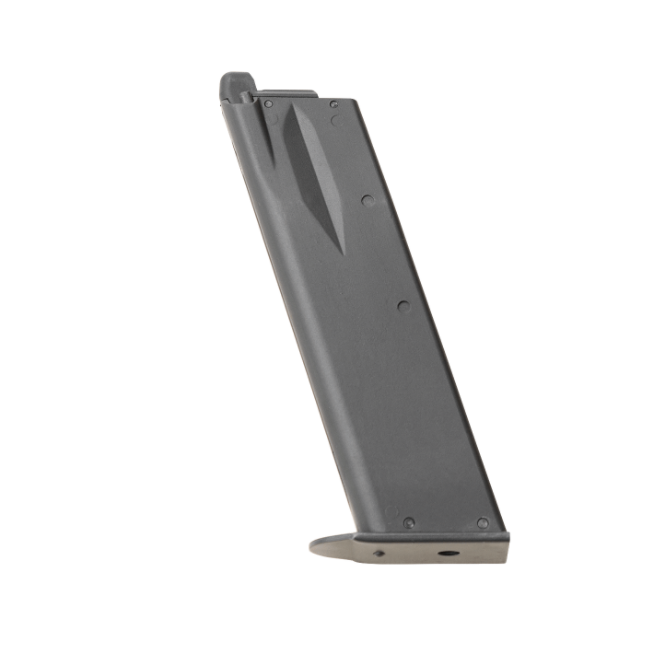 One of the most accurate CZ 75 replicas you will see, KSC have done a fantastic job with this iconic pistol.
The visual differences between the first and second versions are the slide and frame side cuts, the cut curve at the rear of the trigger guard, the metal rear sight cut shape and the proof mark engravings.
System 7 technology with a wide bore cylinder.

The magazine is now made of zinc which results in better gas capacity, whilst vaporisation efficiency is also greatly improved.
Despite its ABS frame and slide, this Second Version replica still comes in at a very weighty 832g with magazine inserted.

This is a green gas powered pistol, so requires charging into the valve on the base of the magazine.

As this is a premium KSC model, it sports fully authentic CZ laser engraved markings (not stamped). You will find markings on the frame, slide and ejection port cover.

Sports lots of metal parts including the hammer, trigger, safety, slide stop, sights, magazine release, internals and magazine.
Front and rear sights are fixed, however offer a great sight picture. It sports a two post rear sight and a traditional dovetail front sight.
Semi-automatic blowback operation.
Working slide lock located on the left side of the frame. Safety lever can only be engaged when the hammer is cocked, just like the real steel.
Full metal magazine holds 23 rounds
Green gas is recommended for best performance.
Adjustable hop-up is located at the back of the hop up chamber and as per most KSC products, can be adjusted with the included tool through the ejection port.
Adding to the CZ 75s legendary looks are the silver finish barrel and trigger.

Double action trigger just like the real steel.
Completely authentic "pick" style hammer, which gives the CZ 75 its unique look.
Great kick with every shot.
Fully field stripable, just like the real steel.
Crisp trigger pull and reset.

Additional magazines available here.
Fires at:

 280fps
Weighs: 832g
Length: 210mm