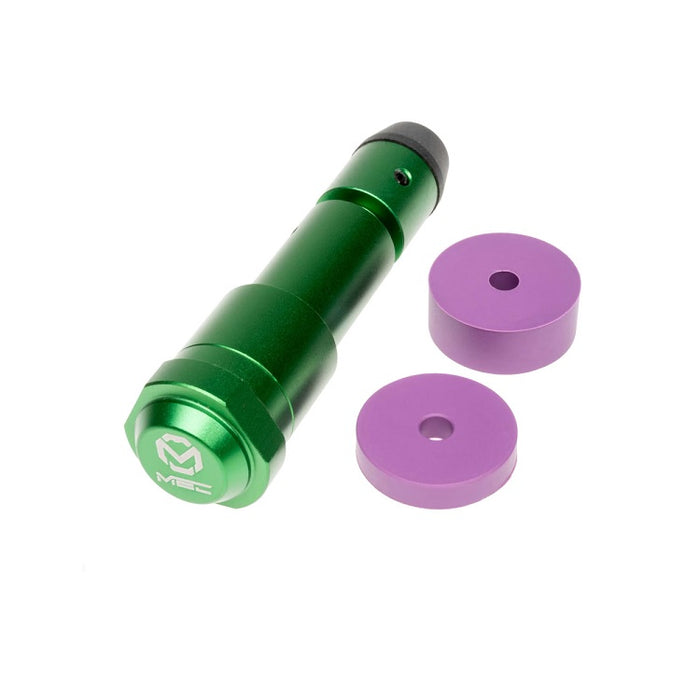 PTS MEC Stock Buffer for TM MWS
The MEC Stock Buffer for Tokyo Marui MWS is precision machined from lightweight 6000 series aluminum alloy. It is designed to reduce felt recoil and help stabilize the bolt travel in the Tokyo Marui MWS GBB M4.
Reduced recoil will allow for faster and more accurate follow-up shots and reduced split times in situations where multiple shots are required on a target or if multiple targets need to be engaged such as in competition shooting or high tempo close quarter combat.
Stabilised bolt travel decreases bolt bounce and improves gas use consistency and efficiency.
Features:
Designed for competition
Reduce the recoil
Includes:
x2 Sorbo Pads to help reduce recoil (x1 10m, x1 5mm).
x2 10g weights (Pre-Installed).
Specification:
Color V Green
Product Weight V 58g
Product Size V 87 x 24 x 24 mm
Material V 6000 series Aluminum Alloy (green anodized)
Compatibility V Tokyo Marui M4 MWS GBB
Manufacturer: MEC