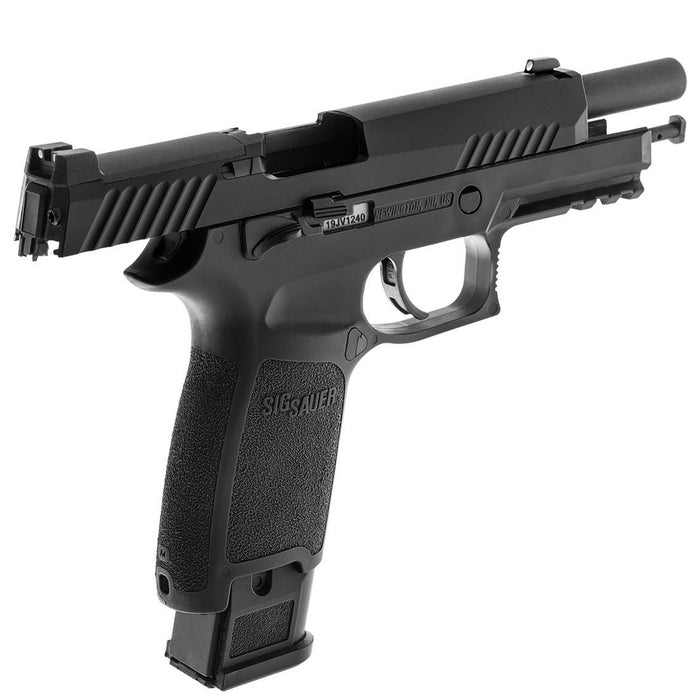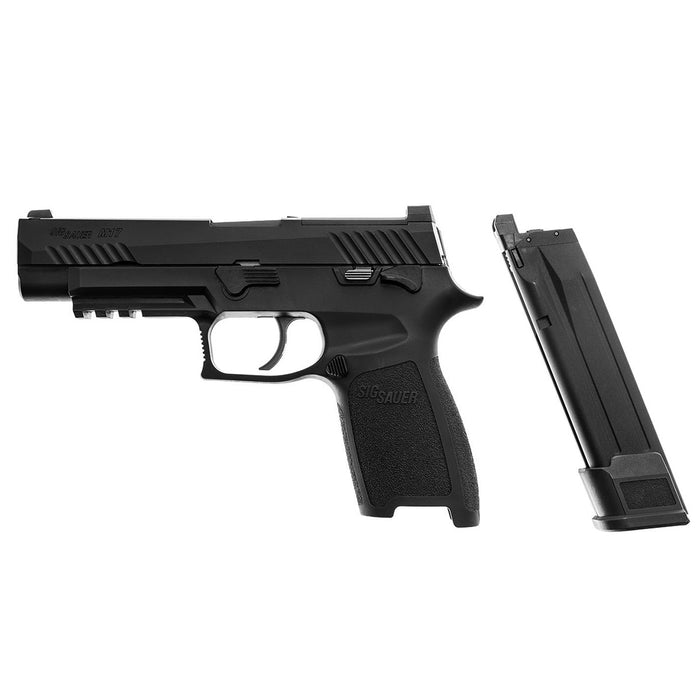 SigAir M17 ProForce - Black
A green gas powered replica of the US Army's new handgun, the Sig Sauer P320 M17.
Made under full licensed from Sig Sauer, this GBB Pistol is made to be as realistic as possible.
This M17 has a black-coloured slide and frame, with a slick matt finish.
You will find authentic laser engraved Sig Sauer markings on the front left side of the slide and also embossed on both sides of the pistol grip.
The pistol has a metal slide and a polymer lower.
Other metal parts include the slide, magazine release, slide lock, disassembly lever, trigger, RMR cover, safety and front and rear sights. 
Sports '9mmx19' laser etched markings on the ejection port cover.
Front and rear sights are fixed, however offer a great sight picture with 3 big white dots.
Semi-automatic blowback operation.
Full metal magazine holds approximately 28 rounds. The base of the magazine is wrapped in a plastic frame-coloured casement, making for a larger grip.
Adjustable hop-up is adjusted by retracting the slide and slowly turning the recoil rod in the direction indicated to apply more or less hop. 
Lower accessory rail allows attachment of any 20mm accessory.
Respectable kick and metal "clank" with every shot.
VFC have copied the form and function of the M17 in every way, including the stripping of the pistol. By quickly removing the slide and poping out the disassembly lever, you can actually remove every single component in the lower frame as one complete piece! Extremely useful for general maintenance or repairs.
A note on gas: The M17 does not perform well with standard green gas at temperatures below room temperature (it is common for the pistol to not go to slide lock). We recommend the use of higher pressure gas for optimum performance in colder weather.
Black in colour.
Fires at:

 320fps (green gas)
Weighs: 770g
Length: 203mm