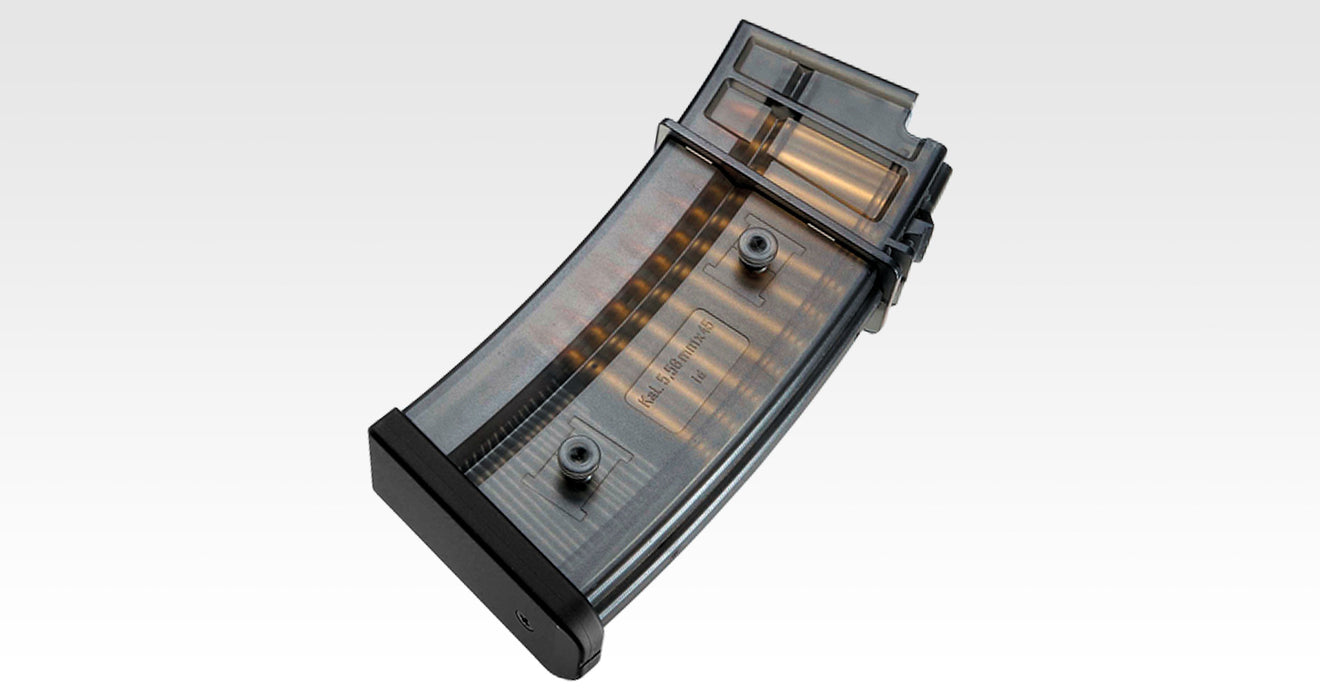 Tokyo Marui G36K Recoil Shock
This G36K model from Tokyo Marui sports their famous Recoil Shock system that cycles the bolt with a considerable kick on every shot.
The K model features 

a dedicated 3x scope built into the carrying handle and a longer barrel & handguard over the C model.

Sports G36 markings on both the left and right side of the receivers.
Made from a touch nylon/ABS combination which mimics the polymer construction of the real rifle. The whole rifle is finished in a realistic matt black colour.
Features Tokyo Marui's clever Version 3 Shoot & Recoil blowback engine, which is makes this AEG fantastic fun to shoot due to the realistic sound and recoil.
Metal parts are abundant, including the outer barrel and flashhider, selectors, receiver pins, trigger and the top and side 20 rail mounts.
The charging handle can be cycled forwards and backwards manually and of course cycles full on each shot automatically.
A 50rd magazine is included with fantastic looking dummy rounds visible through the transparent plastic casing.
The battery compartment is located inside the front handguard. Can accommodate small 7.4V Li-Po batteries (no higher than 25C should be used) or a traditional 8.4V small-type battery.
A 470 high capacity magazines are also available.
Adjustable hop-up unit located behind the dust cover.
A 20mm metal top rail traverses the top of the scope for attachment of any accessories.
The stock is fully foldable for easy transport and CQB.
500 high quality Marui 0.2g BBs are included.
We recommend the use of a

 

1600mAh 8.4V Small/Mini type NIMH battery

 

or a 7.4V 1300mAh

 

Stick

 

or

 

Sticks

 

Li-Po battery.
Weighs: 2.8kg

Length: 615-860mm

Battery Required:

 8.4V 1300mAh small type or 7.4V Li-Po (not included)