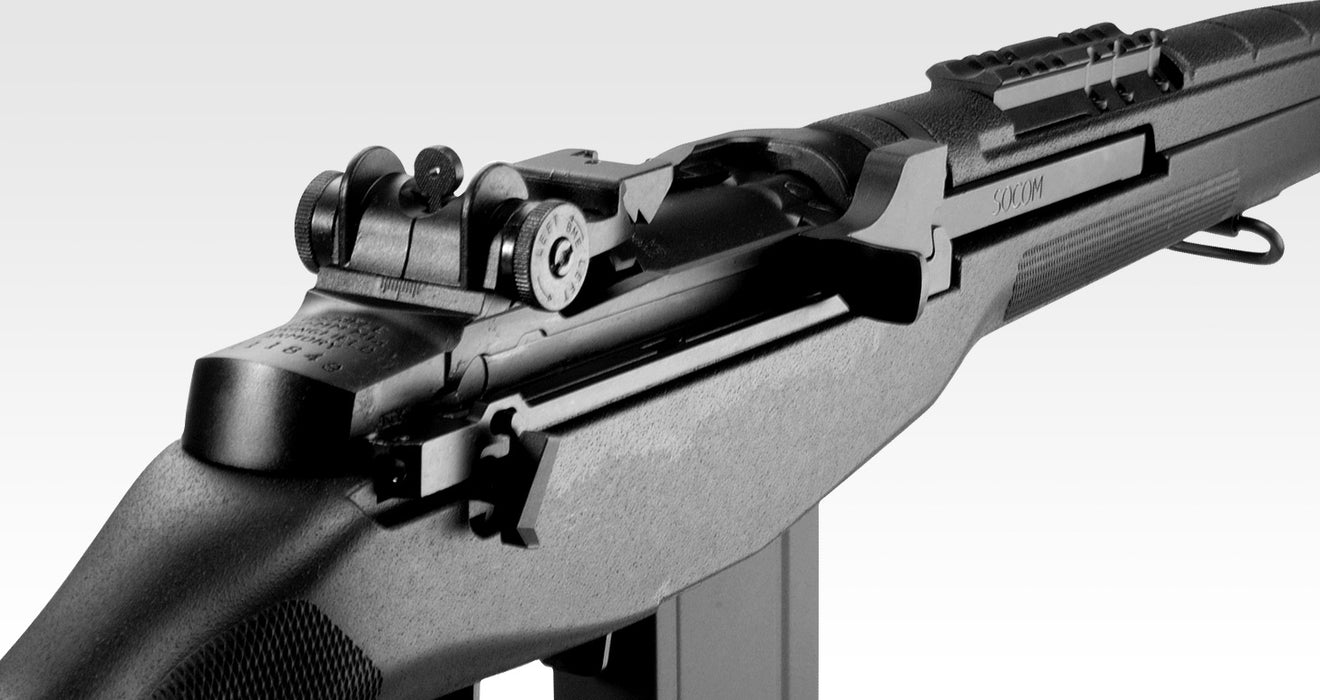 Marui's M14 SOCOM is the go to choice if you want a reliable, realistic and incredibly accurate M14 airsoft replica.

It is comprised of a tough nylon stock with a super realistic textured finish, coupled with many metal parts for a fantastic look and feel.
The SOCOM is the shorter, more tactical variant of the full sized M14, with a slick black finish.
It's also quite a heavy model depsite its shorter length, coming in at 3.55kg.
Sports a stippled finish on the stock in key grip areas.
The entire upper receiver is metal, including the charging handle, entire bolt and dust cover assembly, rear sight and rear mount.

The whole barrel assembly is also metal, as is the front sight, flash hider, trigger guard and magazine release.
You will find a 20mm rail system located on the forward end of the gun for scope attachment (often coupled with a red dot scope, not included).
Fire selector is located on the rear right side and is a toggle switch, just like the real steel. Semi and fully automatic fire modes.
Adjustable hop-up unit located inside the magazine well.
Includes a 70rd mid capacity magazine. BB loader required (includes a basic rod style loader).
Battery compartment is located in the stock of the gun, accessible via a door on the rear of the rifle. 
Wired to a large Tamiya connector, but included a large to small adapter so you can plug a small tamiya 7.4V Li-Po or 8.4V Small/Mini NIMH straight in.
Rear sight is adjustable for both range and elevation.
Front and rear metal sling mounts.
Fires at:

280fps
Weighs: 3.55kg
Length: 964mm

Battery:

 8.4V small-type (not included)