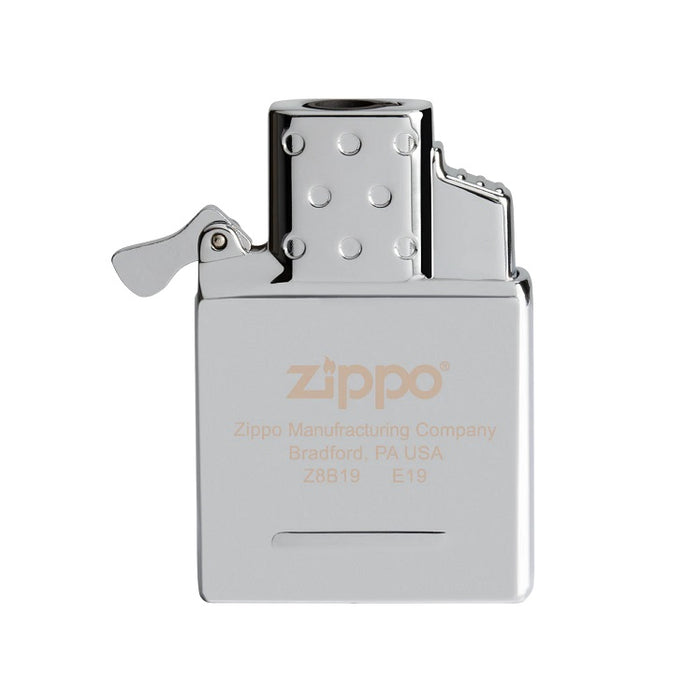 Zippo Butane Double Flame Insert - 2006816
Take the customisation process one step further with your choice of insert. A single bright blue flame deploys at the push of a button, in this new torch insert. The single flame insert offers an odourless heat source that lasts longer than before and is stamped with the best in class guarantee. Zippo's new lighter insert collection, including this double torch option, is designed to perfectly fit any regular Zippo lighter case. For optimum performance, fill with Zippo butane fuel. Comes packaged in a gift box.
FEATURES

Genuine Zippo Single Torch Insert; Push-button piezo ignition.

Adjustable blue flame height; Heats up to 1,260°C.

Refillable with butane fuel; 0.9g fuel capacity.

Fits all regular Zippo lighter cases - does not fit Slim,1935 Replica or Armor® cases.

Insert retains the famous Zippo "click" sound.

Fuel: Zippo premium Butane Gas (sold separately) found here.
BENEFITS

Provides a clean high-precision flame; Quick and easy ignition

Rugged, durable and built to last; Reusable for long-lasting use

Provides up to 60, 5 second lights per fill using a 1" / 2.5 cm flame height
Note: This insert comes unfilled. Please fill with Zippo butane fuel. Inserts sold separately without lighter case. Please purchase a lighter case that is unique to your individual style.