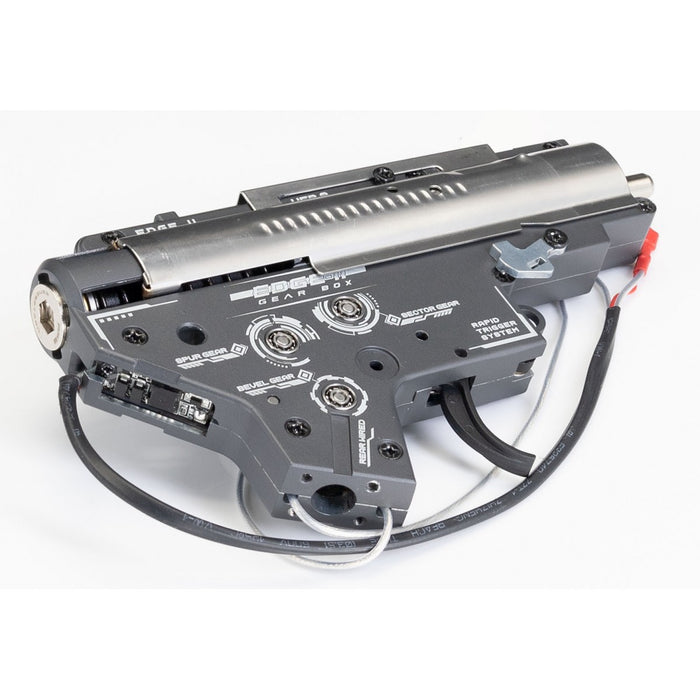 APS Edge ll V2 Gearbox - Rear Wired
New for 2023, this is the very latest version of the Edge gearbox from APS.

With buily in mosfet for fantastic trigger response, it has held up to harsh testing at APS using an 11.1v (45c Li Po Battery, M140 Spring, High Torque Motor).
The trigger switch is fine tunable for the perfect trigger response.

For complete durability, the gearbox sports a full metal tooth piston.

You also get a super smooth stainless steel cylinder, withthe port opening optimised for both bore up / non-bore setups.
Aluminium cylinder head with double seal for optimal compression and aluminium air nozzle.
Fully compatible with standard V2 parts including gears, pistons, cylinders etc.

Quick change spring system ~ Easily change the power for use in different market or for fine tuning up to your legal limit.
Attractive white print on a black coated casing.
Sports 8mm bearing bushings for high ROF and low fricton rotation.
Includes a blowback bolt system which can be removed depending on application.
Comes wired with quality silver wire and includes both a T-plug (deans) and Tamiya battery connection.
All internal parts are compatible with TM Spec ~ Essential for your Airsoft needs
Ships with a M120 spring. A 1 Joule spring will be required for use within Ireland. Please see spring here.